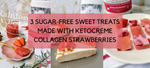 How it would be if we give some little magic wand with the KetoCreme Collagen Strawberry? A Certified Ketogenic Living Coach, Julie Mokhtar has reviewed and suggested this would come great with Keto Snack and Sweet since it has light taste of sweetness but of course, still can be enjoyed by the Keto Consumer and everyone whom practicing healthy snack diet!
As you can check on the Nutrition Fact (available on the label of the product), the sweetness due to the natural flavor of Strawberry Powder that has antioxidant properties, Luo Han Go Monk Fruit Extract and Erythritol.
Fermented sugar only 3.4g per serving, which works best for desserts with just nice portion.
Here are the recipes! Credit to Julie Mokhtar, thanks for the recipes!
You can even try different kind of recipes that can fit your own to get boost of collagen. If you have another creative recipes, don't mind to share with us!
 
And yes, you can get this product on our website!
Recipes credit to Julie Mokhtar, Certified Ketogenic Coach.